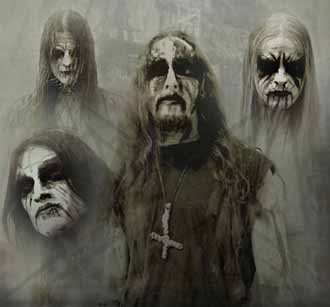 Citing personal and creative differences, Gaahl, King ov Hell and Infernus of
Gorgoroth
have elected to part ways. Or, perhaps more accurately, King and Gaahl have decided to part ways with Infernus. This is according to news posted on the
band's website
on 22 October. This development, however, may not mean the end of Gorgoroth, as I and many like me originally feared; King and Gaahl have stated their intention to go forward with Gorgoroth's planned European tour, and to continue working together, according to a statement posted on 24 October.
Earlier today, Gorgoroth's two remaining members announced plans to join forces in 2008 with Hellhammer, who has probably played drums for half the bands in Norway by now. I have to wonder why they didn't try to recruit Frost, who was the batterist on Gorgoroth's most recent album. I'll bet he was too busy dicking around in
Satyricon
to be bothered. Kvitrafn would also have been a good choice, since he has played with Gorgoroth in the past, and works with King in
Jotunspor
.
At any rate, it's good to know that Gorgoroth is still kicking, regardless of who's pounding the drums.